Image: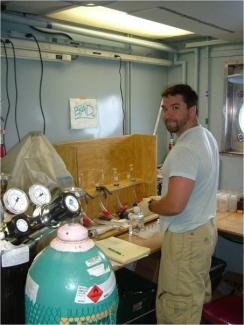 Who am I? Currently, I am the Chief of the Branch of Biological & Social Sciences and Scientific Integrity Officer at the Bureau of Ocean Energy Management (BOEM), which is a bureau within the Department of the Interior.  In my role, I oversee a diverse staff of senior scientists whose expertise include marine ecology and biology, biological oceanography, birds, fisheries, benthic species, marine mammals, sociology, economics and marine archaeology.  We are responsible for coordinating BOEM research in the Arctic, Atlantic, Pacific and Gulf of Mexico.
The Bureau of Ocean Energy Management (BOEM) manages the responsible exploration and development of energy and mineral resources on the Outer Continental Shelf (OCS). To support this work and inform bureau policy decisions, BOEM's Environmental Studies Program (ESP) plans, conducts and oversees a range of scientific research from physical and biological oceanography to social and economic studies. BOEM incorporates findings from the studies program into its environmental reviews. Through the ESP, BOEM is a leading contributor to the growing body of scientific knowledge about the marine and coastal environment.
I came to BOEM as a Presidential Management Fellow after finishing my Ph.D. in 2008, and have held several scientific, policy and coordination focused positions. My success in these positions was directly helped by the diverse background and abilities that I acquired at UGA Marine Sciences. 
What brought me to UGA Marine Sciences? I have always had a broad interest in the marine environment and marine ecology, so I was actively looking for a graduate program in marine sciences that would allow for a wide-range of experiences across multiple fields of marine sciences and oceanography.  The strength and collegiality of the staff, and the ability to work with and learn from other students and faculty within the Marine Sciences Department was key in making my decision to attend graduate school at UGA.
What do I remember best about my time at UGA Marine Science? Working with my major professor (Dr. Brian Binder) and other professors and researchers in the Marine Science Department taught me many valuable skills I use everyday.  From the critical, analytic thinking required of a scientist, study design and conduct to effective presentation and communication skills, I feel like I was well prepared for a career beyond graduate school.
Studying picocyanobacterial biology and ecology in the Binder Lab was a great experience, working and sailing with a diverse team of students, scientists and researchers from across the country, and the contacts and friendships made during my time in the Binder lab and the Marine Science Department have been critical in my continued development as a scientist and professional.